Bowling has lost its luster.
Alleys crave a new and discriminating crowd. They need a distinct new lane to compete as a destination hotspot. They want to be a place to have a good time, but also a place to be and be seen.
An existing, iconic bowling alley gets a conceptual redesign inspired by the idea of a found secret spot–a misty mountain watering hole–both energizing and serene. Nature gets brought inside and suggestions of creeks and trees remind us to breathe.
This particular alley has the luxury of incredible mountain views and a steady flow of tourists looking for good times to make great memories. Parties and events happen all the time here. And one-of-a-kind venues are a rare commodity.
Arrival
First impressions will always count.
Uplighting and a manicured approach give the alley an upscale resort/arrival feel. Everything 'glows' and our perception of what an alley looks and feels like begins to shift. The existing entrance gets an overhaul. A glimpse of the 'big blue sky' inside blurs the line between the out and indoors.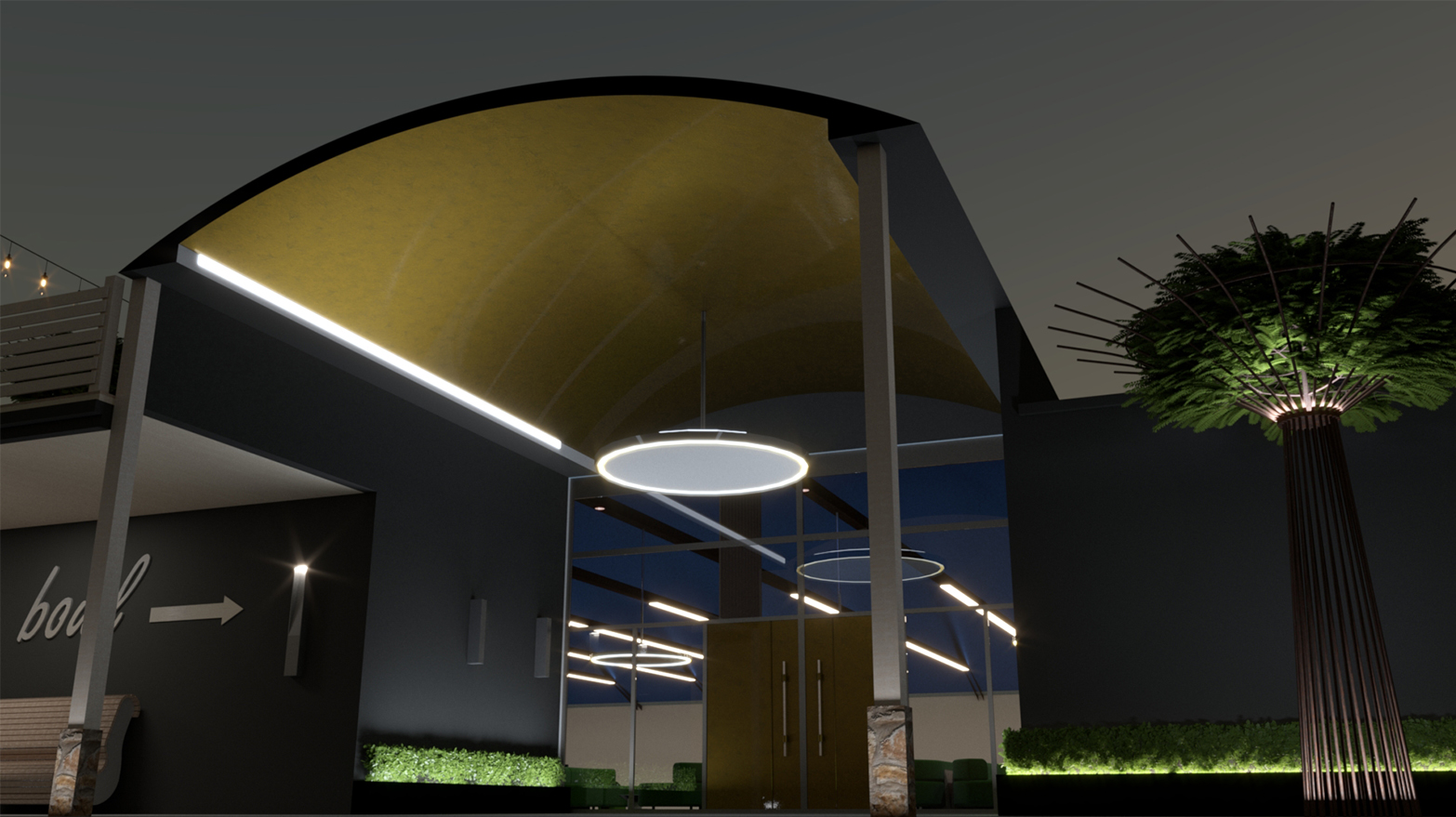 Sitting on one of the busiest corridors of this well-traveled location is like having the town's biggest, brightest billboard without the need for a board at all.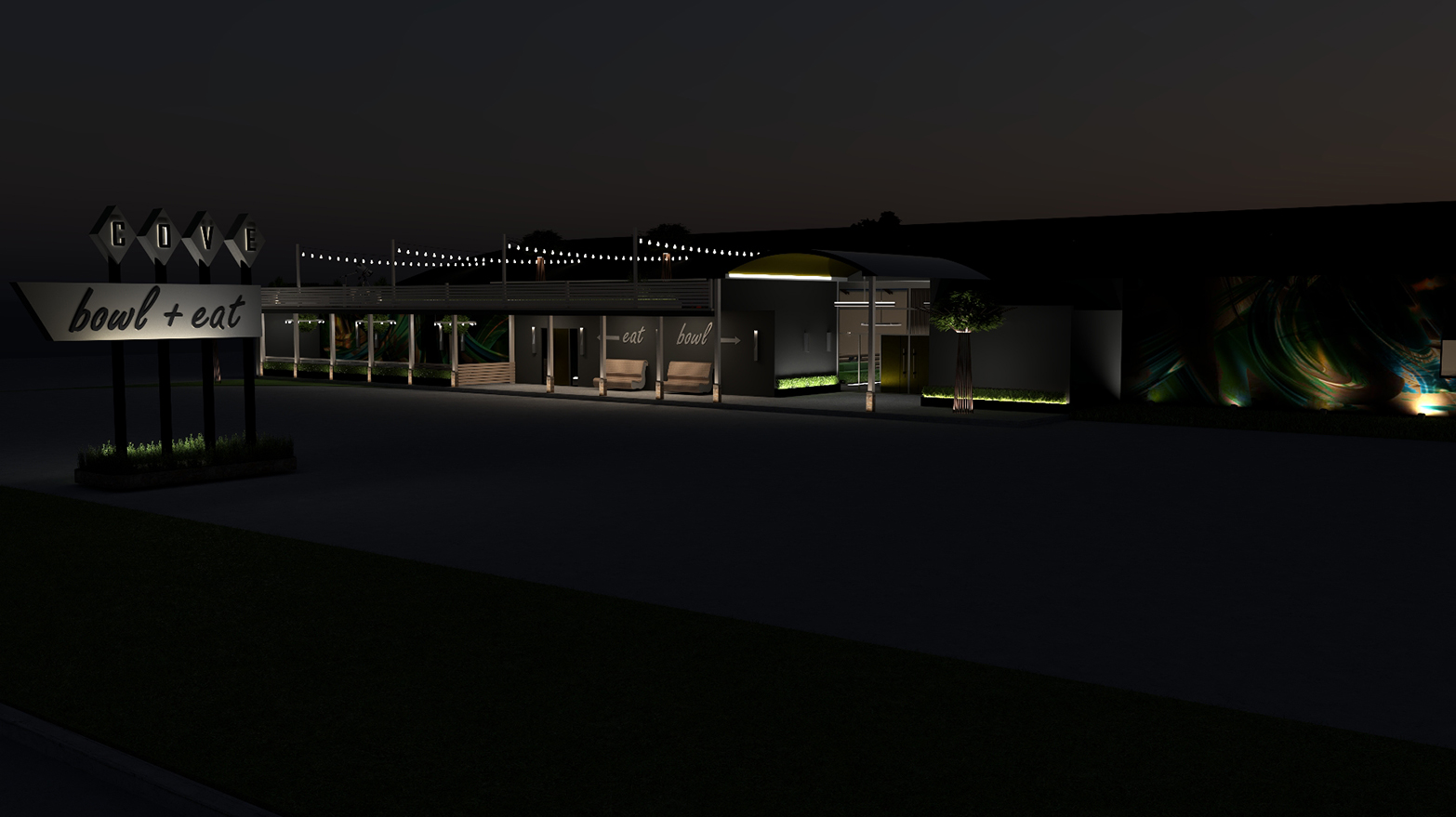 This is all about an unexpected and exciting find
Local artists liven up the parking lot with sculptural rebar trees and street art. And nature has a seat at this table. Greenery defines the outdoor spaces. A coved-grassy extension at the far end of the building gracefully bookends the space within the large, rectangular lot. Boxwood keeps things green year-round.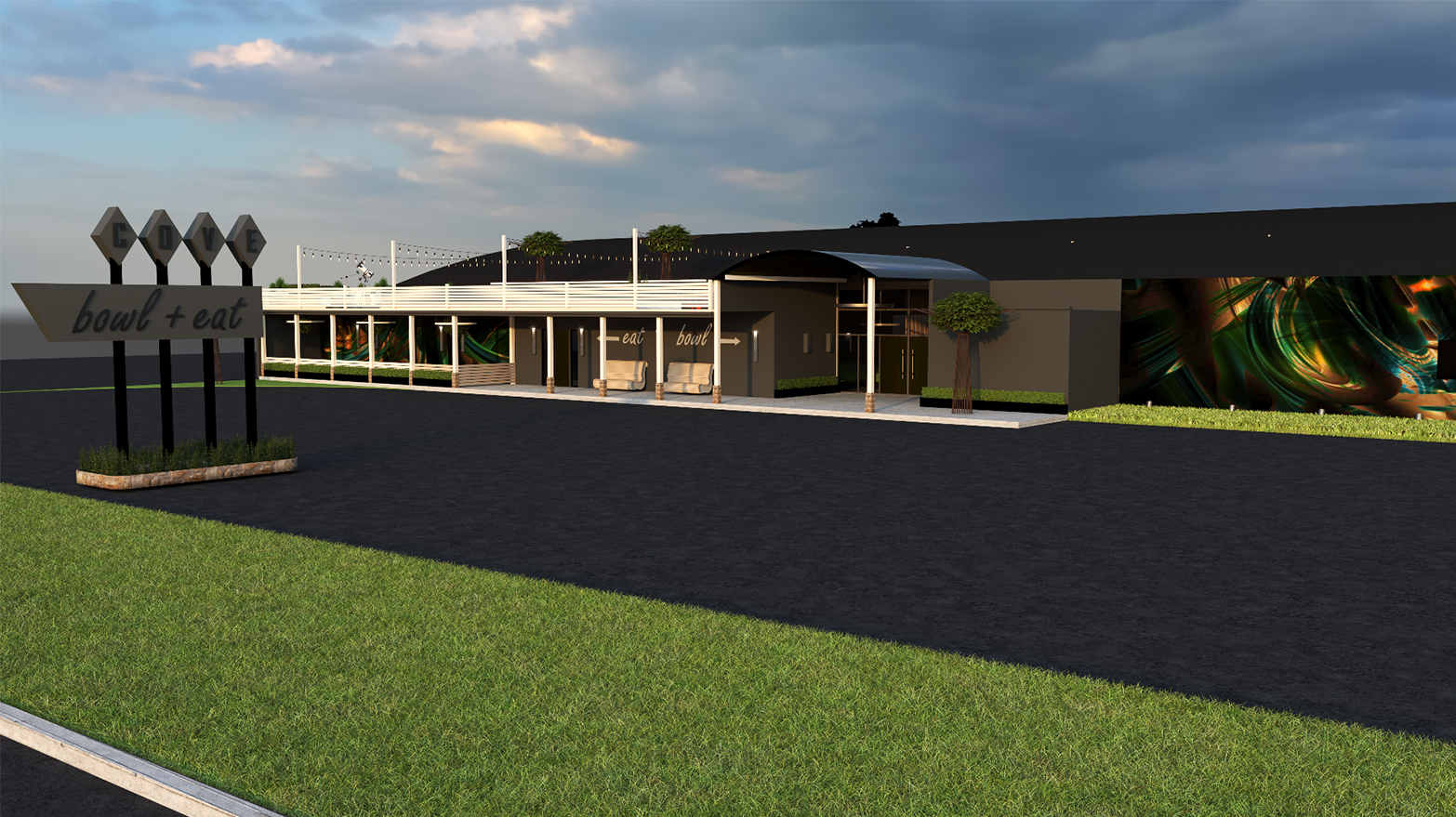 Second Impressions Count Too
Inside is a surprising palette and materials drawn from the great outdoors–earthy deep greens and blues and materials of stone and wood. The rental counter gets a mountain-made stone façade and artisan-crafted rebar shoe station. And overhead greenery provides a welcoming hotel-like vibe at check-in.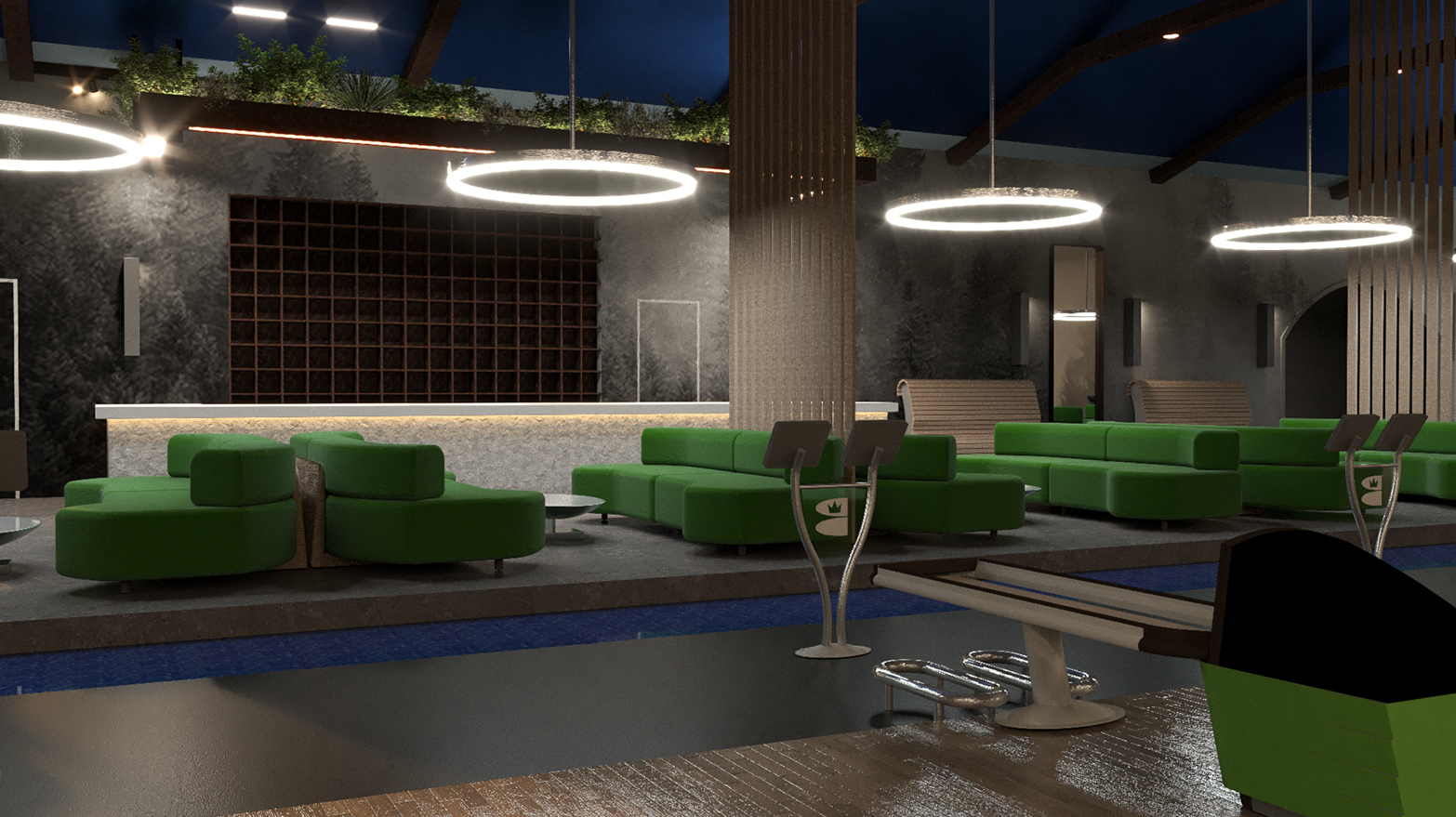 Lights over each sofa group provide illumination and visual boundaries between parties.
A strip of lit blue epoxy (think 'mountain creek') creates the illusion of depth and motion while providing safe lighting between floor levels. Ball returns get a shiny coat of green. And black utility flooring creates a unique, cost-effective and practical surface between foul line and 2nd approach.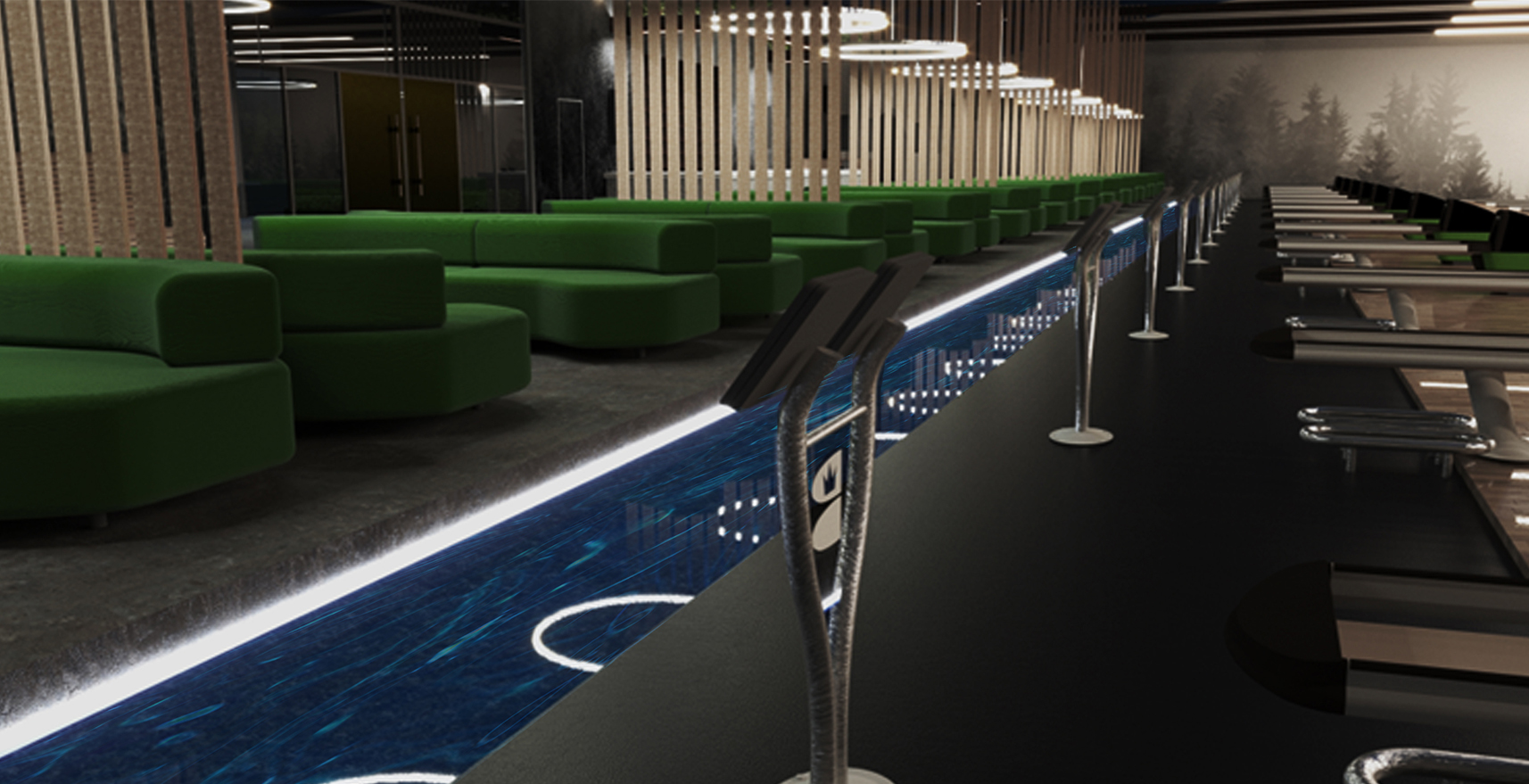 Stay Awhile
Airy partitions provide a bit of privacy and vertical interest in the long, linear space. Graceful bench seating provides new spaces to watch or wait for lanes. Comfortable furniture replaces the current tables and chairs. The carpet is removed, and the concrete polished, providing for a contemporary and easily maintained, non-absorbent flooring.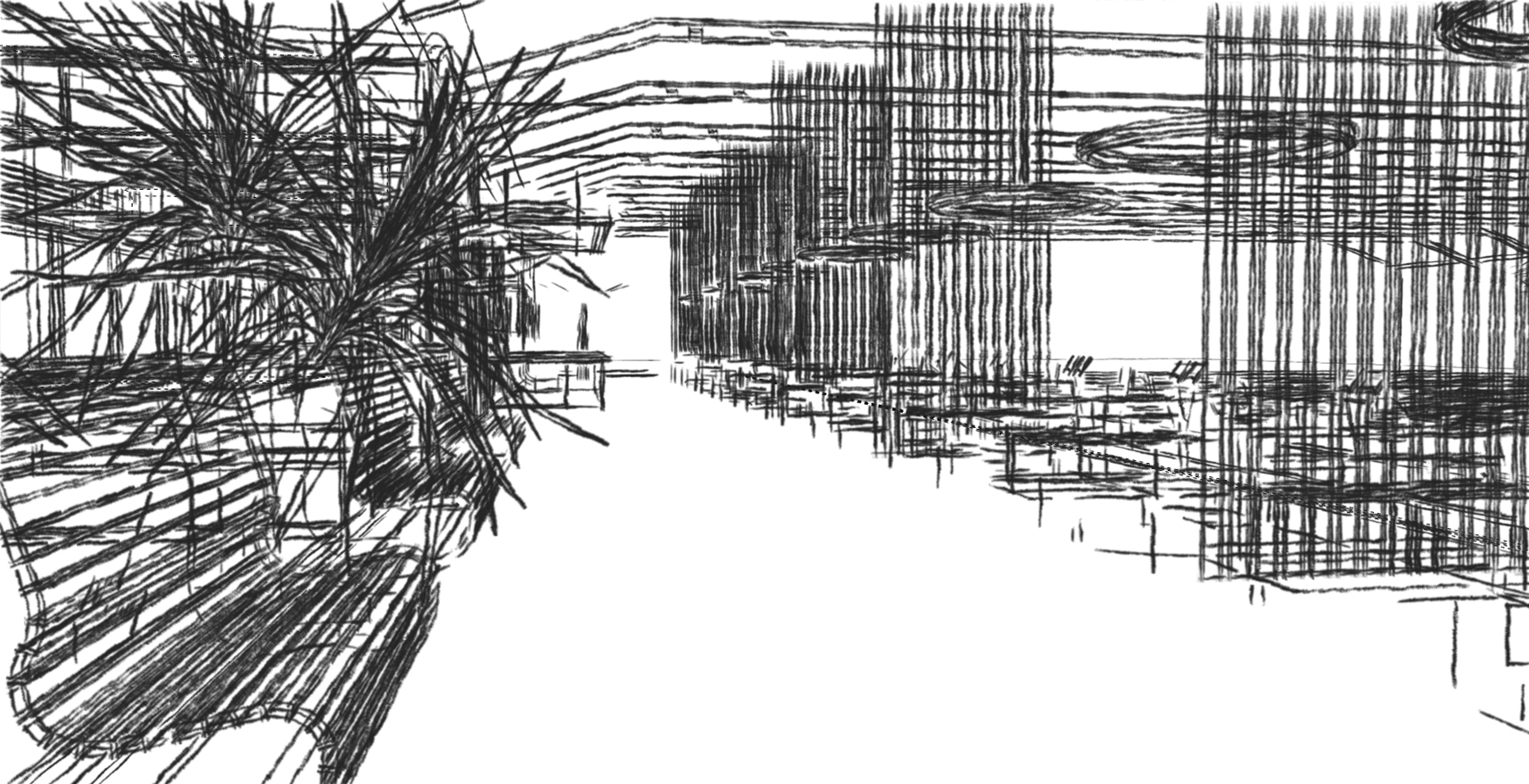 It's said the Coen Brothers used the Cove as inspiration for the lanes in The Big Lebowski. So, a subtle nod to the movie in the form of a rug the shade of local wildflowers…

to really tie the room together.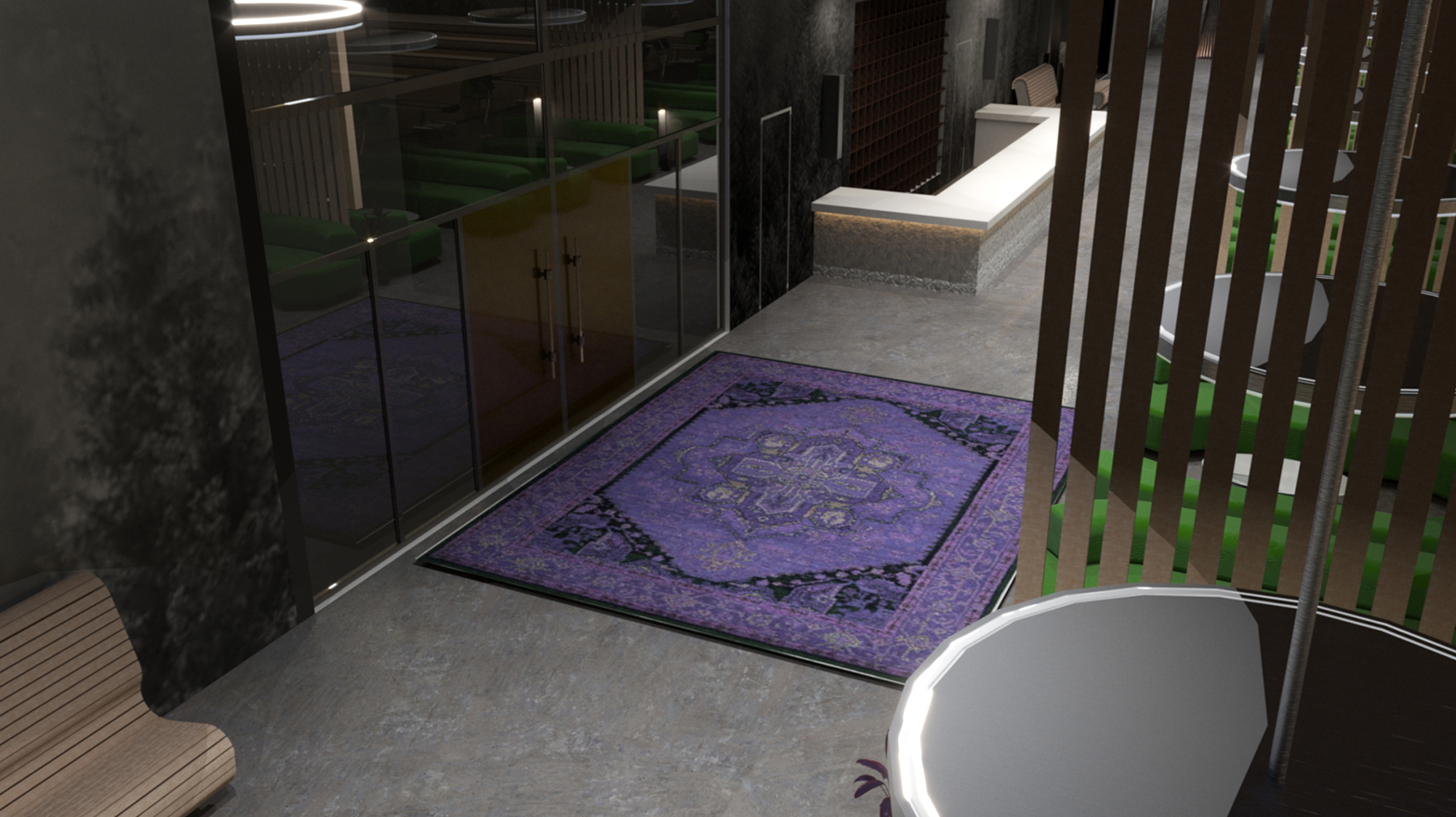 Cost-effective Ideas for Big Changes
Removing the existing drop ceiling exposes a vaulted, cavernous space which we'll paint 'big-sky-blue.' The girders provide a perfect surface for soft, lane lighting. Floor to ceiling murals give a misty-mountain vibe, emphasize the inherent volume and height of this space, and create depth.

While dramatic, the proposed changes are primarily aesthetic. These are cost-effective shifts that will have huge impact.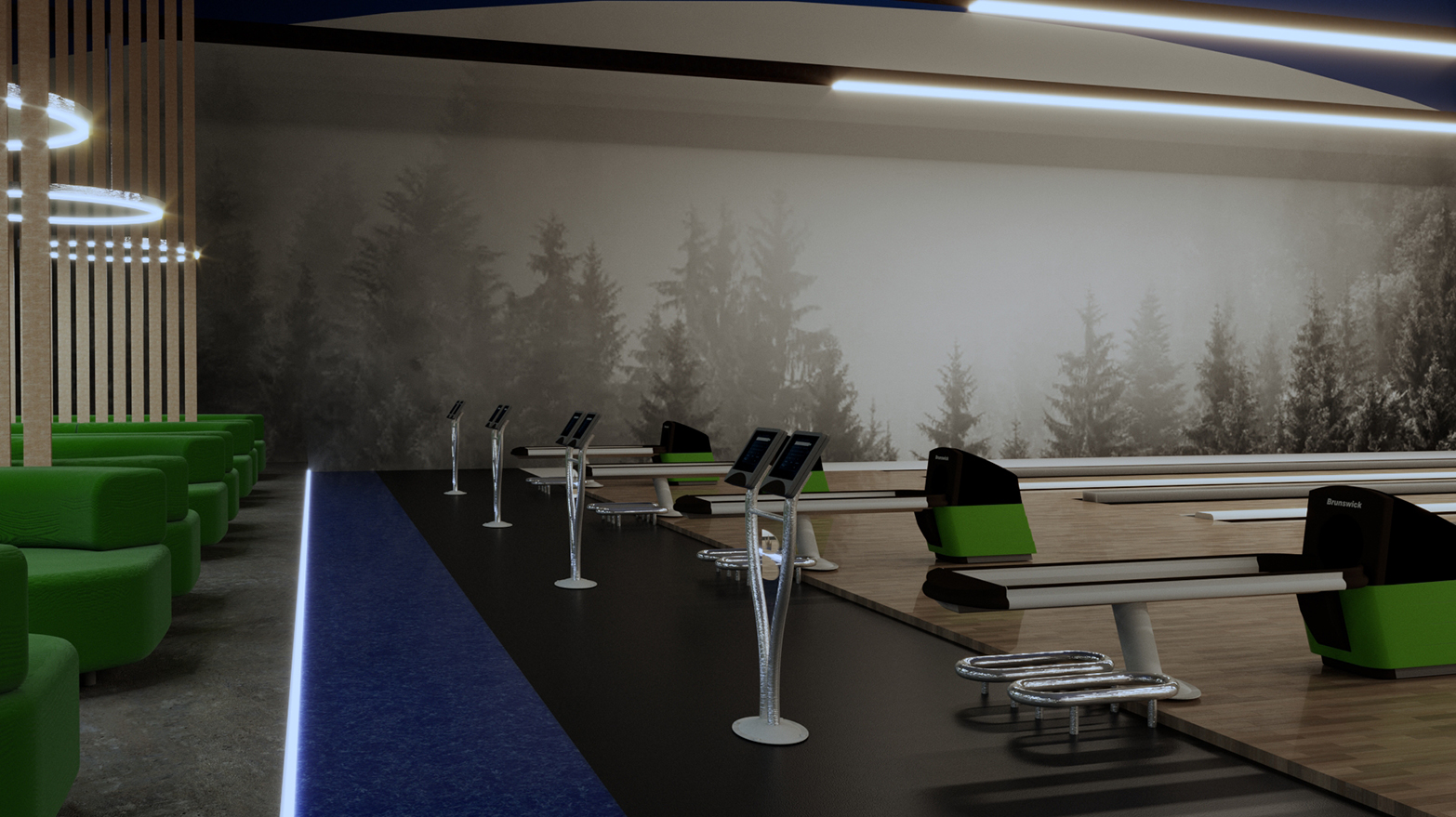 3d Projection
A what if moment.
What if... the newly exposed domed ceiling became a canvas to a 3D projection system.
Short, explosive video displays [lightning; fractals; confetti; fireworks] to celebrate big happenings [strikes, tournament wins, bachelorettes and wedding parties].
Readjusting
The conceptual design calls for a rebranding of the space as a whole—perhaps a new, notable restaurant and bar get re-named with bowling in mind:
the Alley remains: The Cove
the Restaurant: Honey [a good ball]
the Bar: Bender [a hook shot]
Honey and The Bender @ the Cove
It has a certain ring to it.
Signature food + drink named with bowling terminology make for great promotional opportunities. Think "Sleeper, Boomer, King Pin, High Hit, Break Point"–and bottled beers get rebranded "No-Taps".

Reinventing Without Rebuilding
It's amazing what you can do with what you already have.
The building has a flat roof over the front left entrance. What better place than a flat roof for a rooftop deck. It just so happens to face a mountain range too. Not one but two outdoor dining and entertainment spaces are carved out of the existing structure–a patio adjacent to the restaurant and a deck above.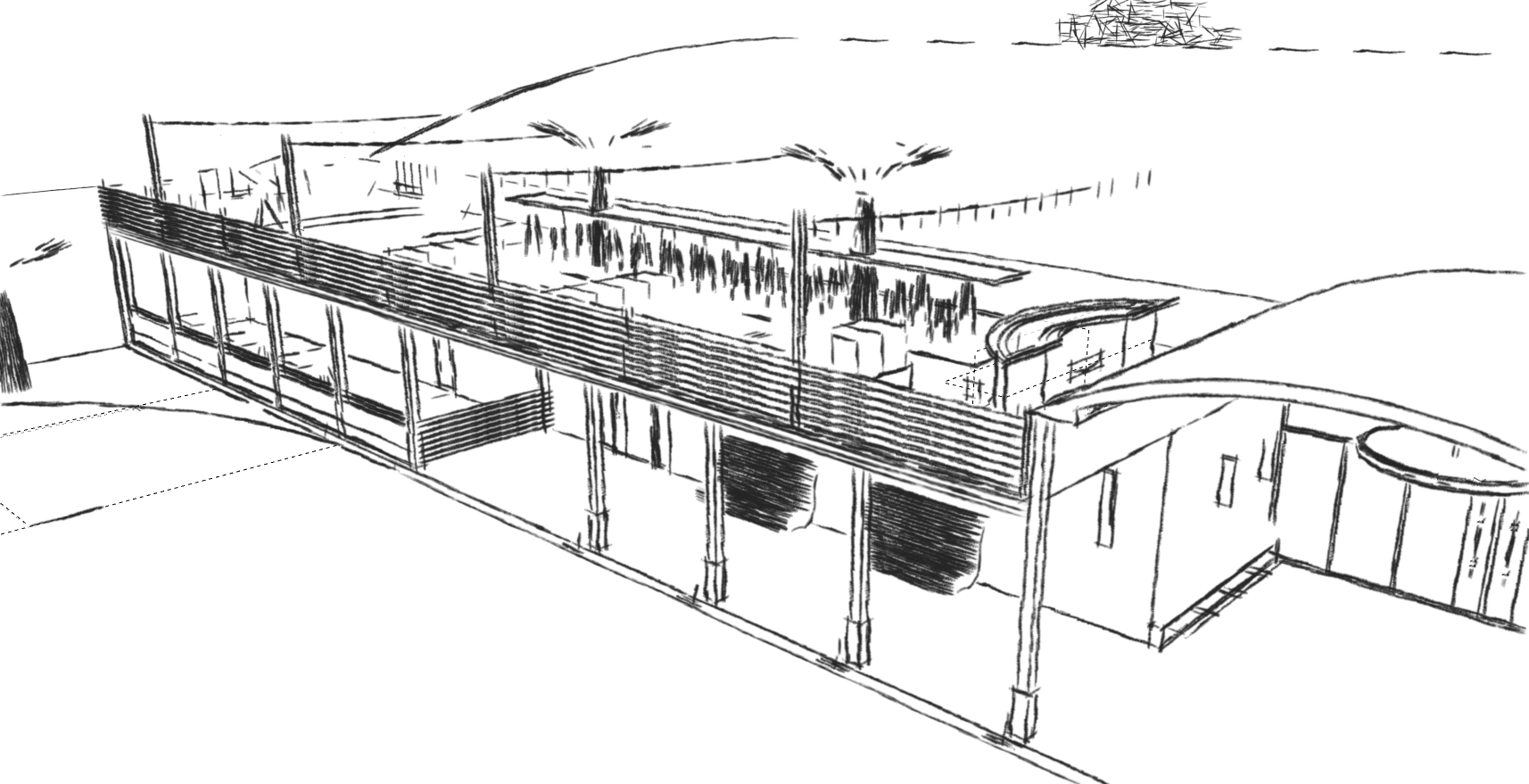 The ground level eatery is open-air overflow from the new restaurant inside. In-and-outdoor tables run from the restaurant out to a patio.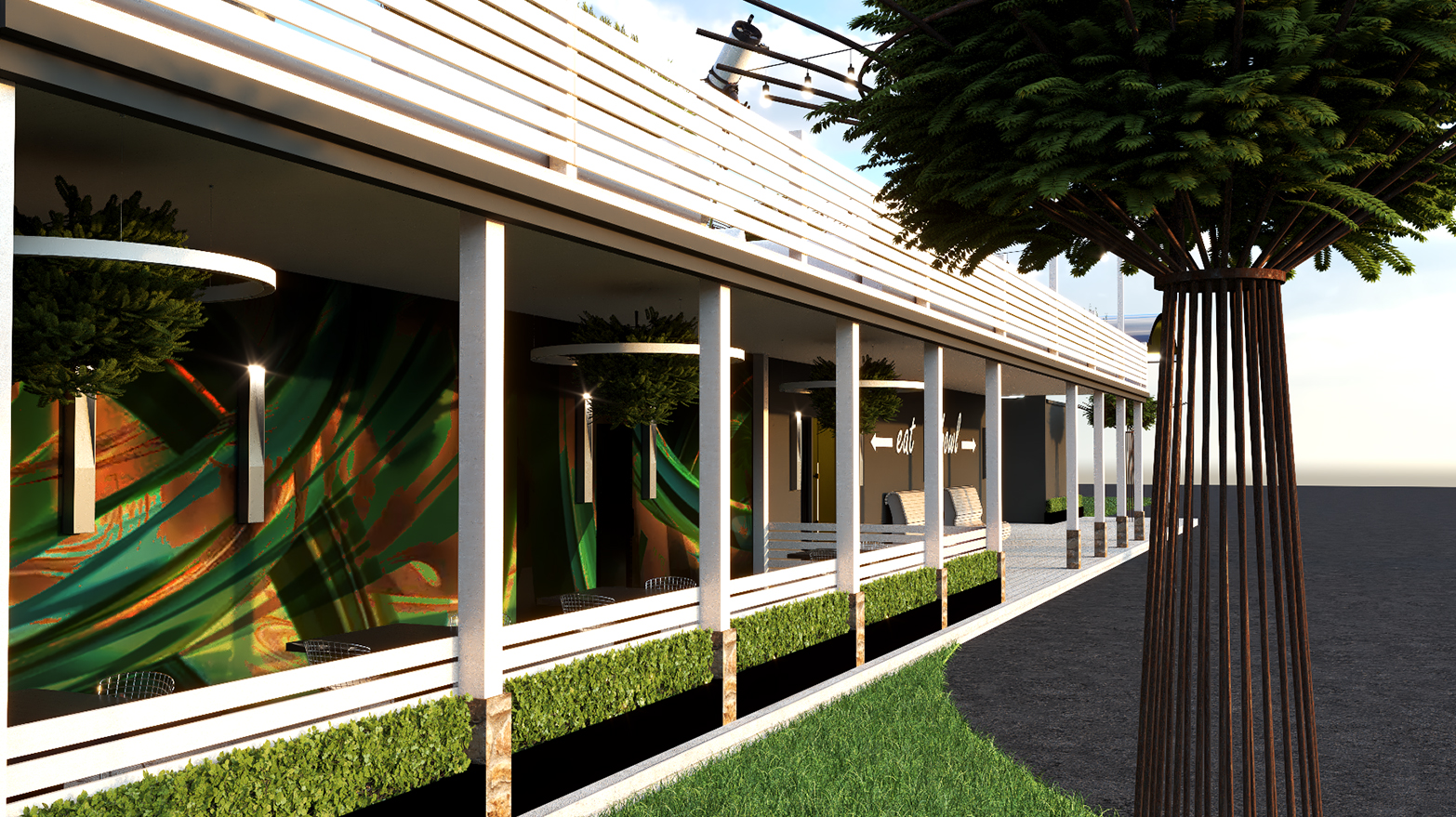 The rooftop lounge takes advantage of existing, unused space and creates an ultra-hip, picturesque place to hang out day or night. This will be a breathtaking space to book for concerts and private parties.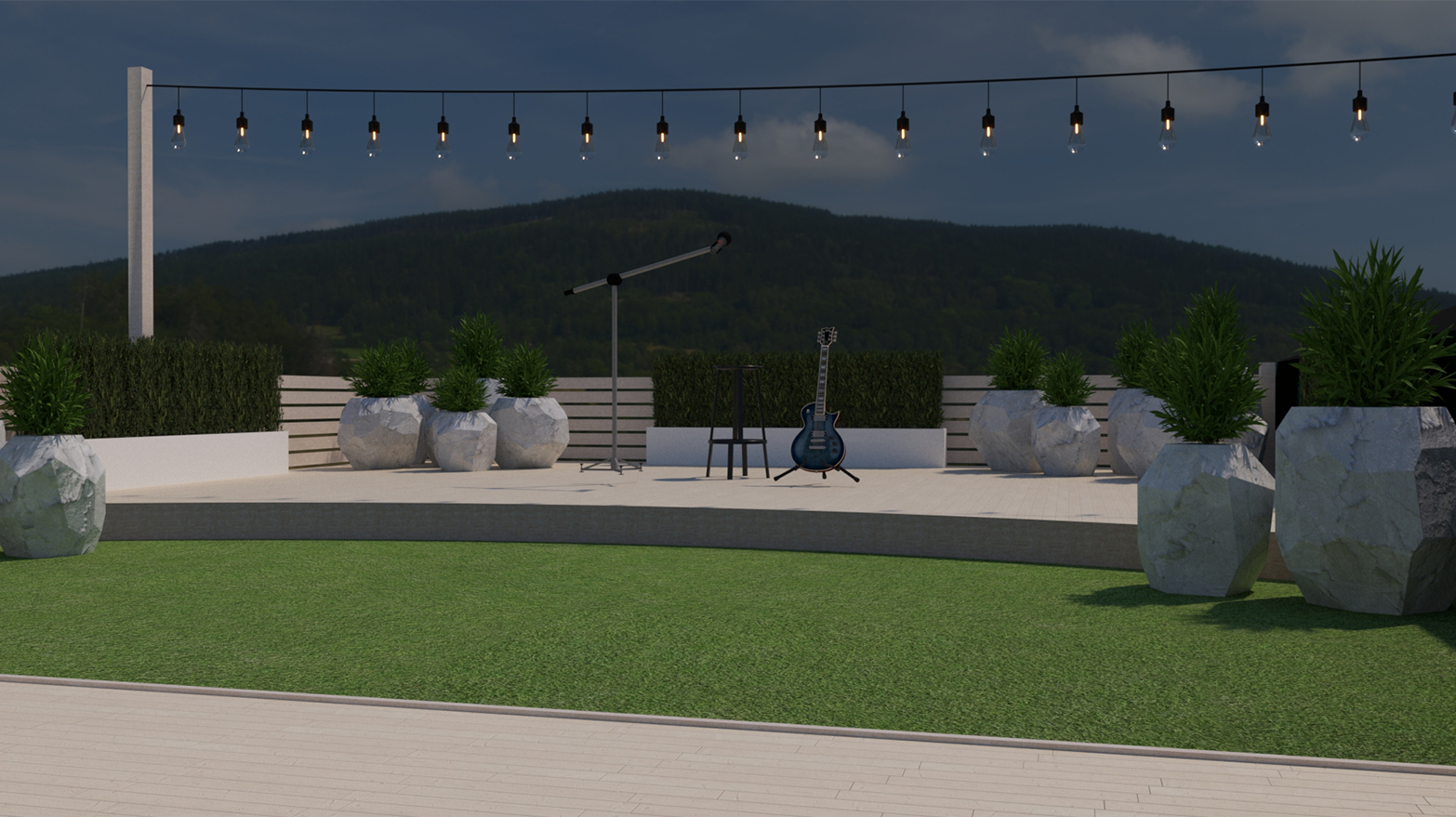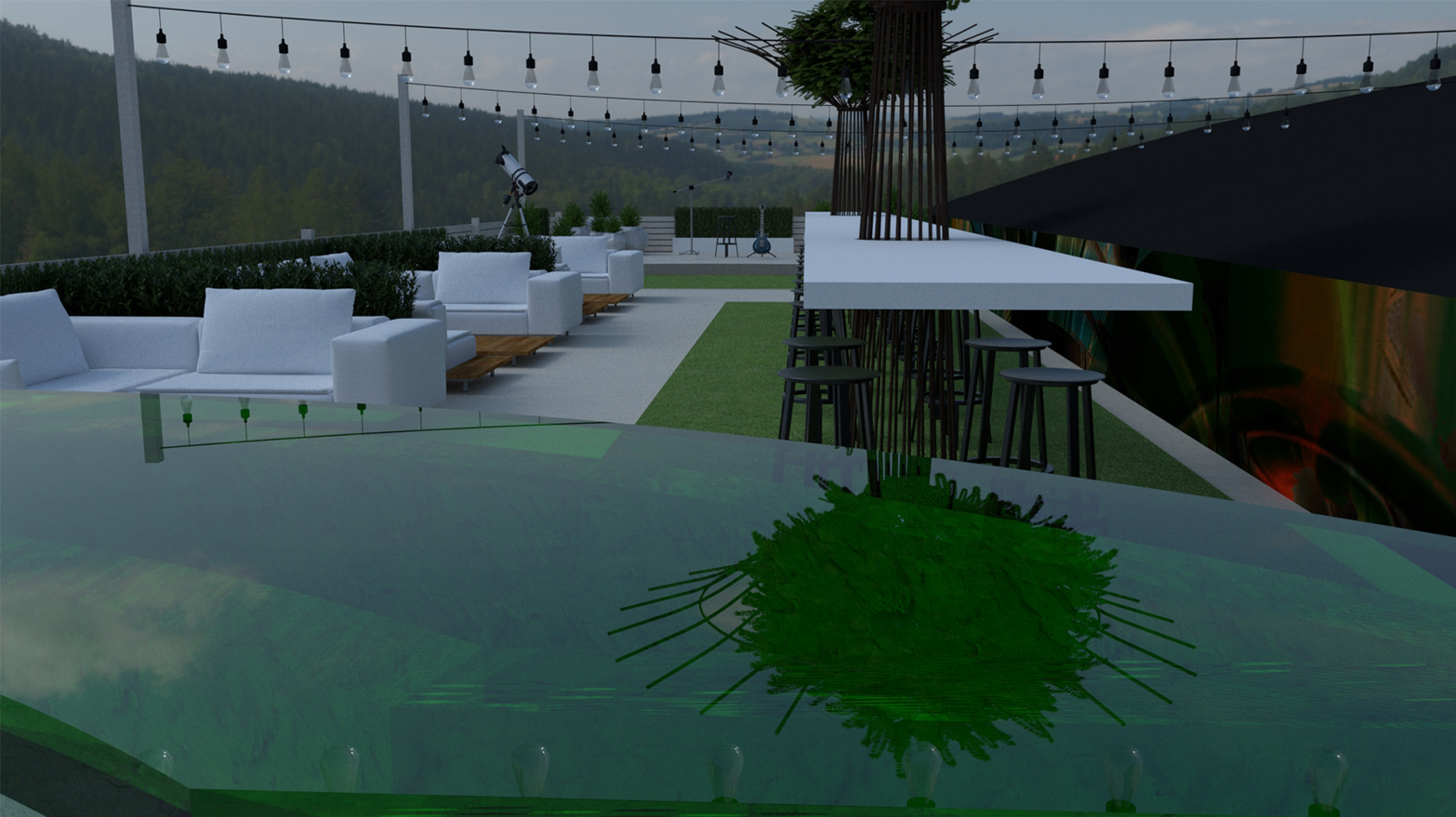 Turf by the stage for sitting on the grass. Might even be used for a little lawn bowling.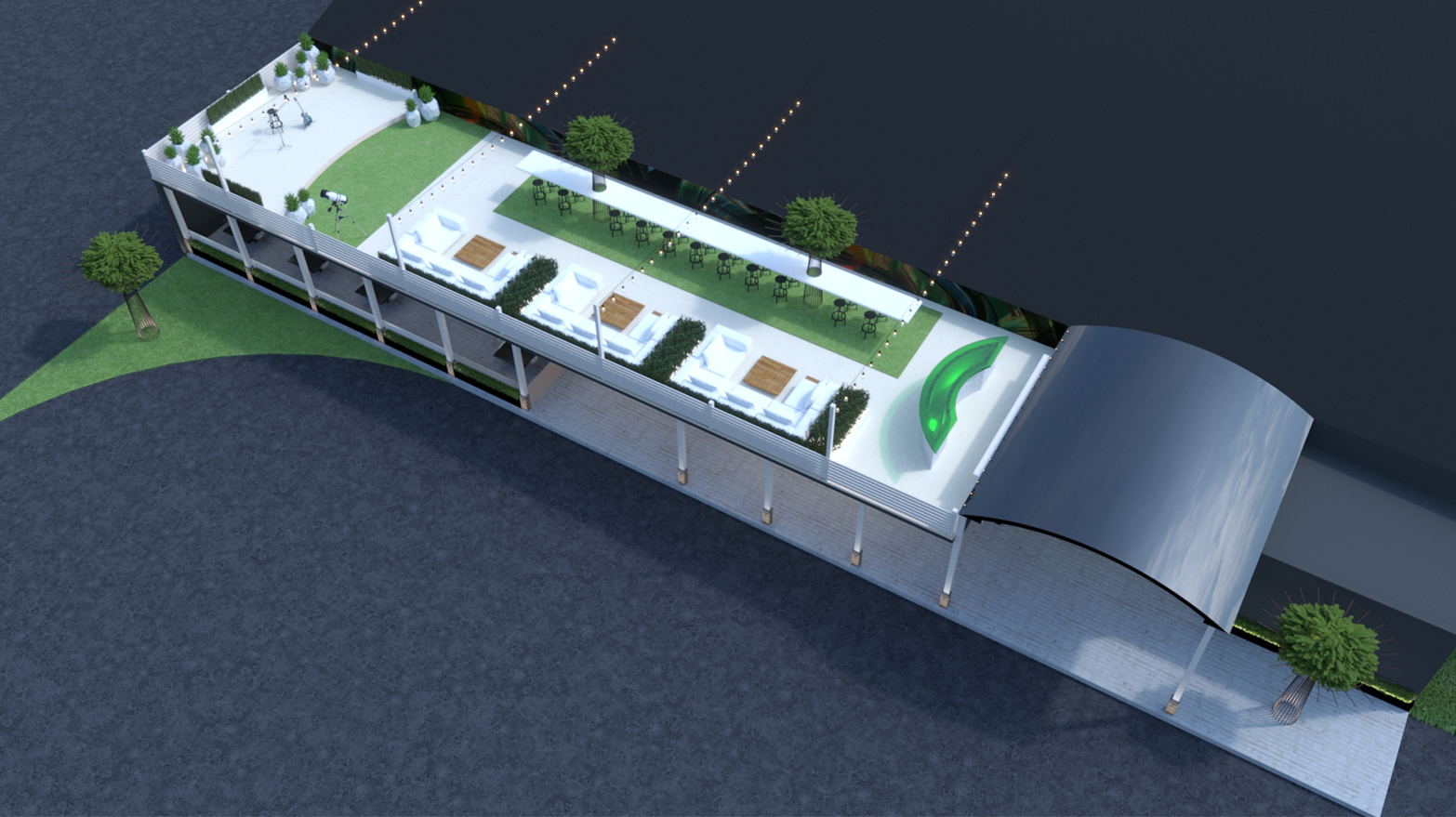 One last detail while we're not talking about details... Retail.
Shopping is the #1 tourist activity. And the most sought-after treasures are reflective of local culture and unique places.
In addition to Pro Shop and Cove-inspired goods, what about adding some local art for purchase–good for the Cove, the Artists, and the Visitors who want to bring home something one-of-a-kind. There are some extremely fun (and beautiful) art-pieces being crafted from bowling pins.
And what if lucky Cove socks were laid out on the beds of guests checking in to the many local B&B's. Everyone loves lucky socks just as much as intel on the happening place to head after dinner.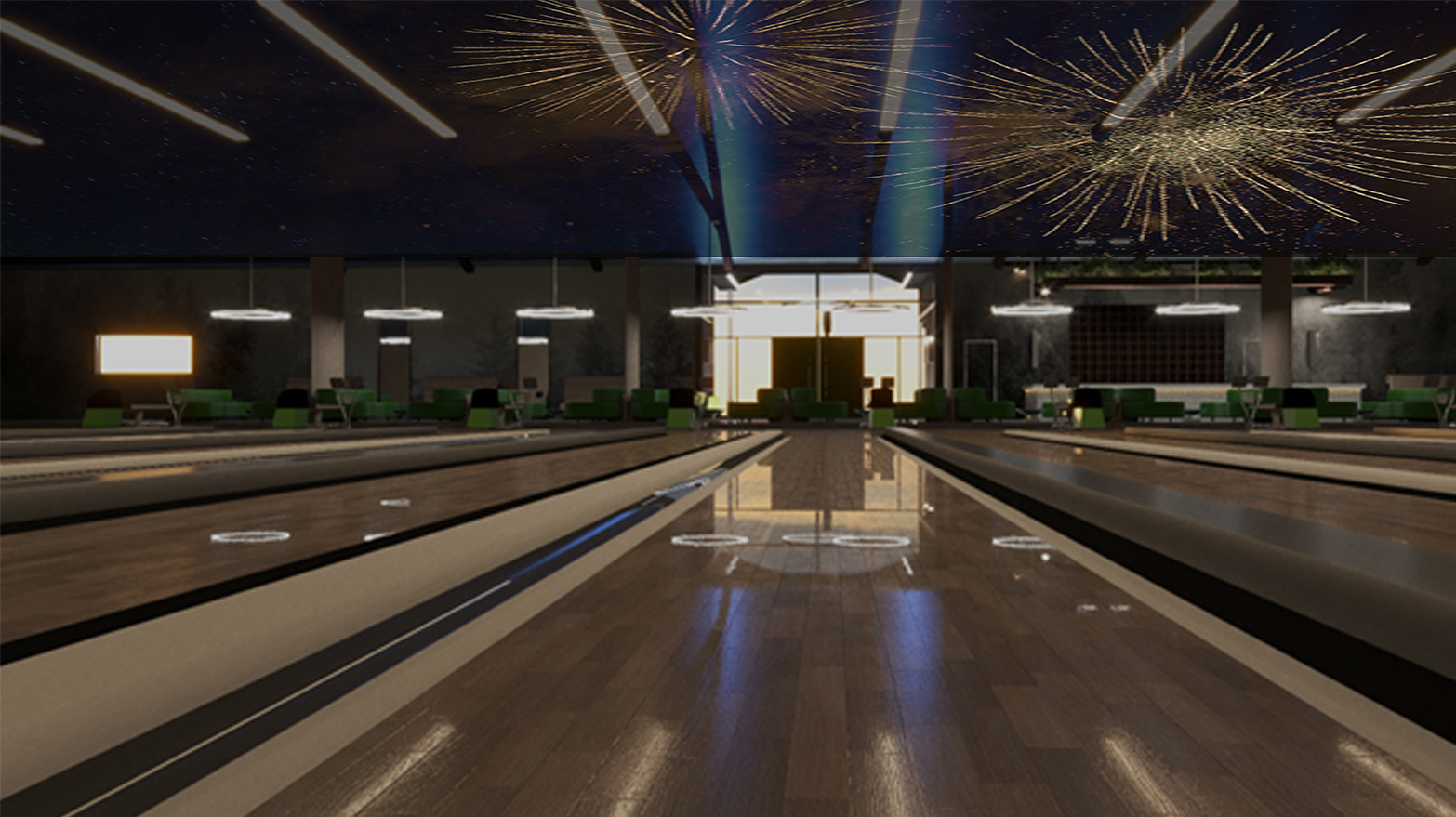 Strike.