Surf-Inspired Fitness Studio : : Concept Design
Ironing boards are surf boards that gave up their dreams. Don't be an ironing board.
Surfing connects body with mind and sport with nature. It speaks to peace, adventure, vitality and a bit of rebellion. Some good news for the landlocked… Surf fitness is alive and well and using long boards on balls to mimic the feeling of being on water.
The concept: a studio named WAVE that provides an experiential environment for experiential-based fitness.
The goal: a space that reflects the power and poetry of this extraordinary sport.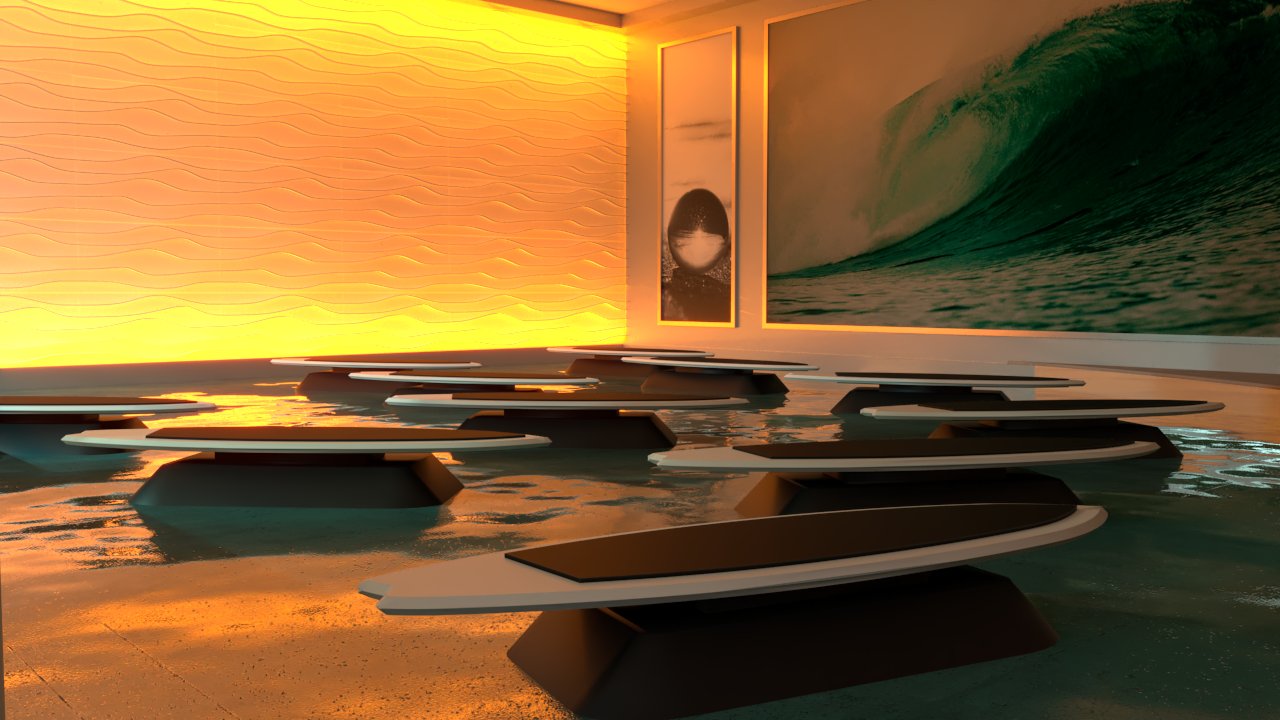 Let there be Light
The sun rising, setting, and shining across water is undeniable magic. Capturing those illuminated jewel tones was the launching point to the design. A programmable, back-lit wave wall recreates this shifting light and the passage of time from day to night.
The studio is filled with reflective surfaces like the entrance wall, reception desk, and blue epoxy floor. The walls and ceilings have a metallic, gloss coat.
The finishes serve to bounce this lovely light around just as the water would.
Perpetual Motion
Larger than life murals behind the locker wall mimic the height of those coveted waves. The goal is to inspire.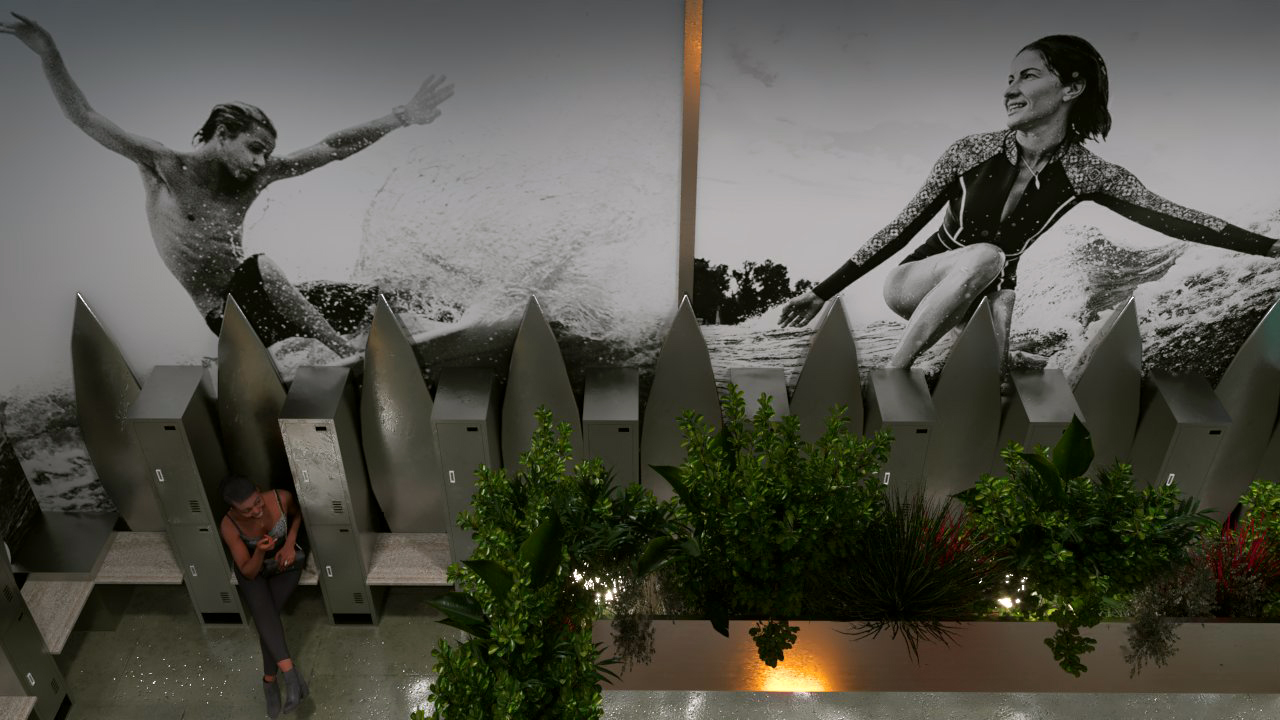 In the studio proper is a fixed video wall. Imagery of sea and shore reminds clients of where they want to be and pulls them further into the feel. Footage of the surfing greats, cresting waves, sand under foot, the setting sun... there is no shortage of inspiring subjects.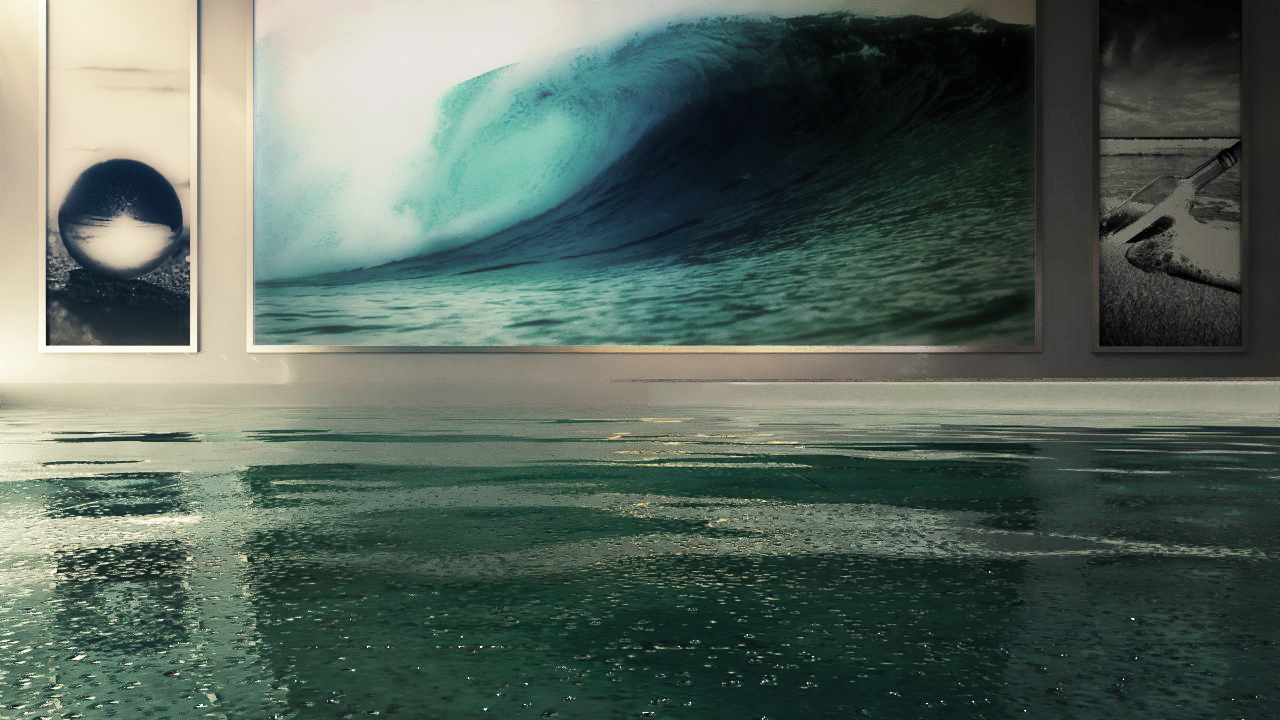 The idea is to feel as though one is 'there'.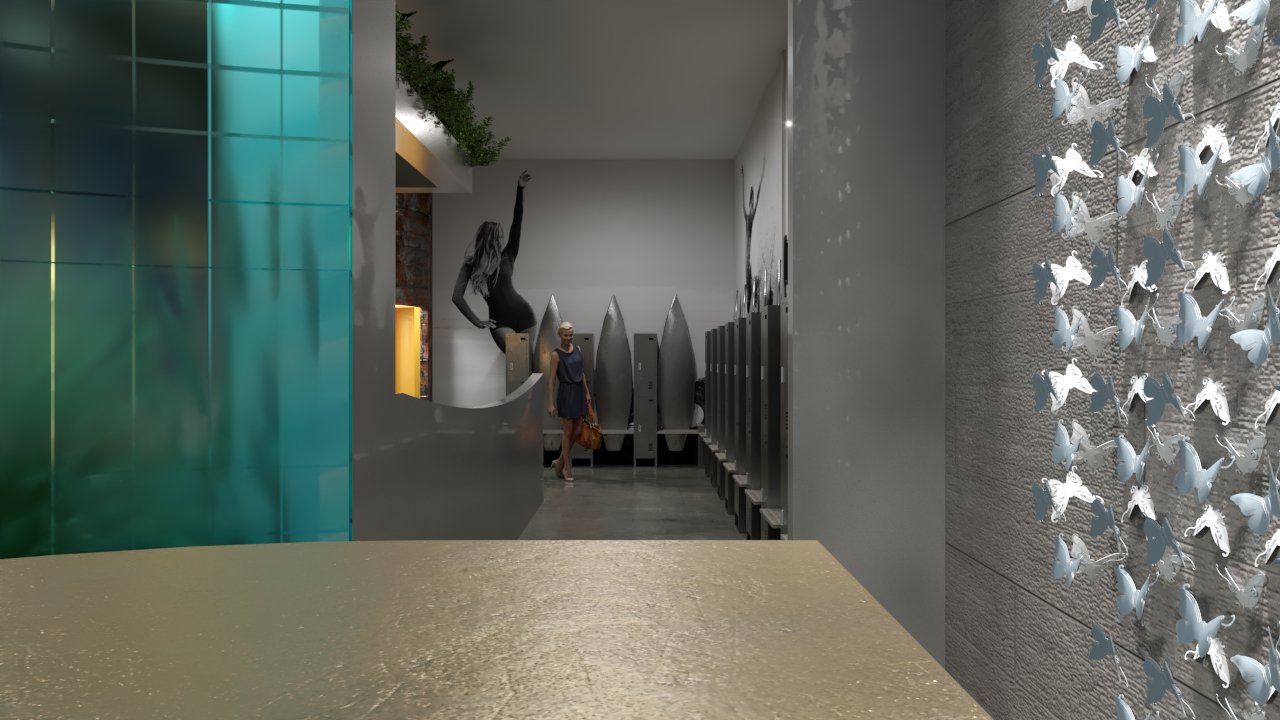 Shape and Flow
Curves are built into this square studio footprint at every bend. And while the class is separated from the waiting room, large windows keep the space integrated and alive. The tone gets set from the front entry. A curved glass wall gracefully guides clients to ride the wave inside.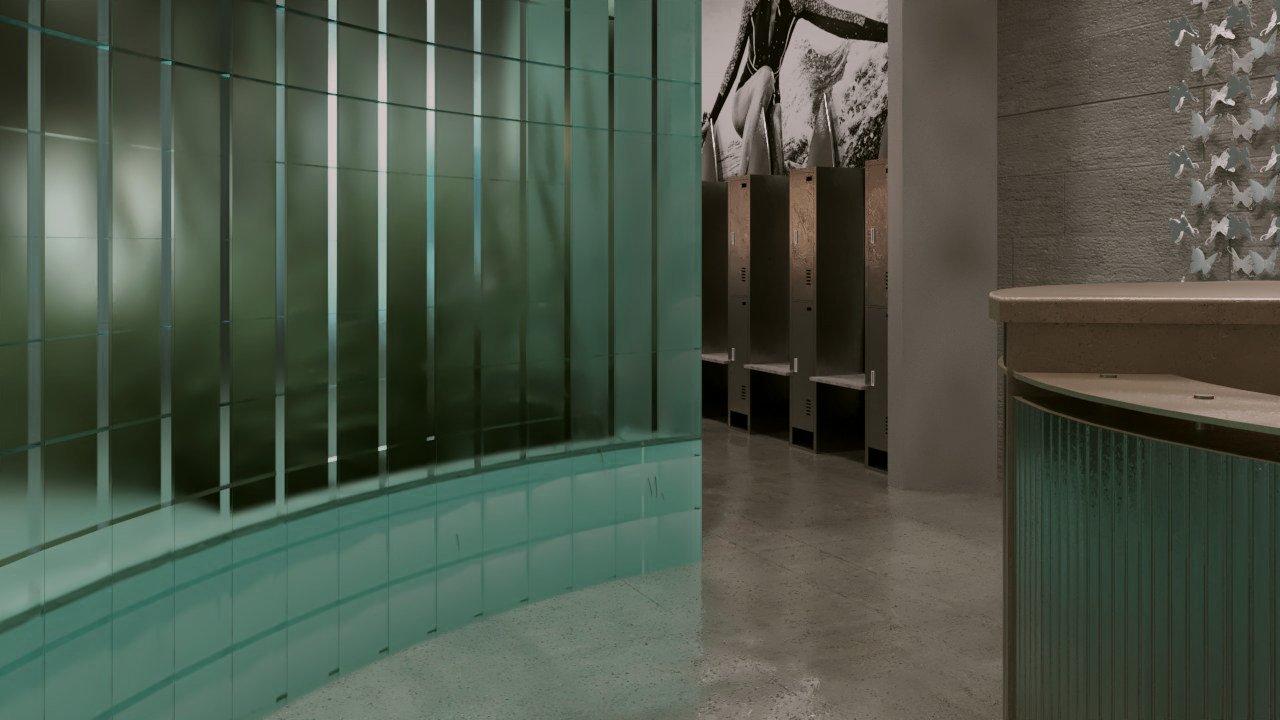 The studio is divided between sea (a blue + green class space) and shore (a white + gold locker area.)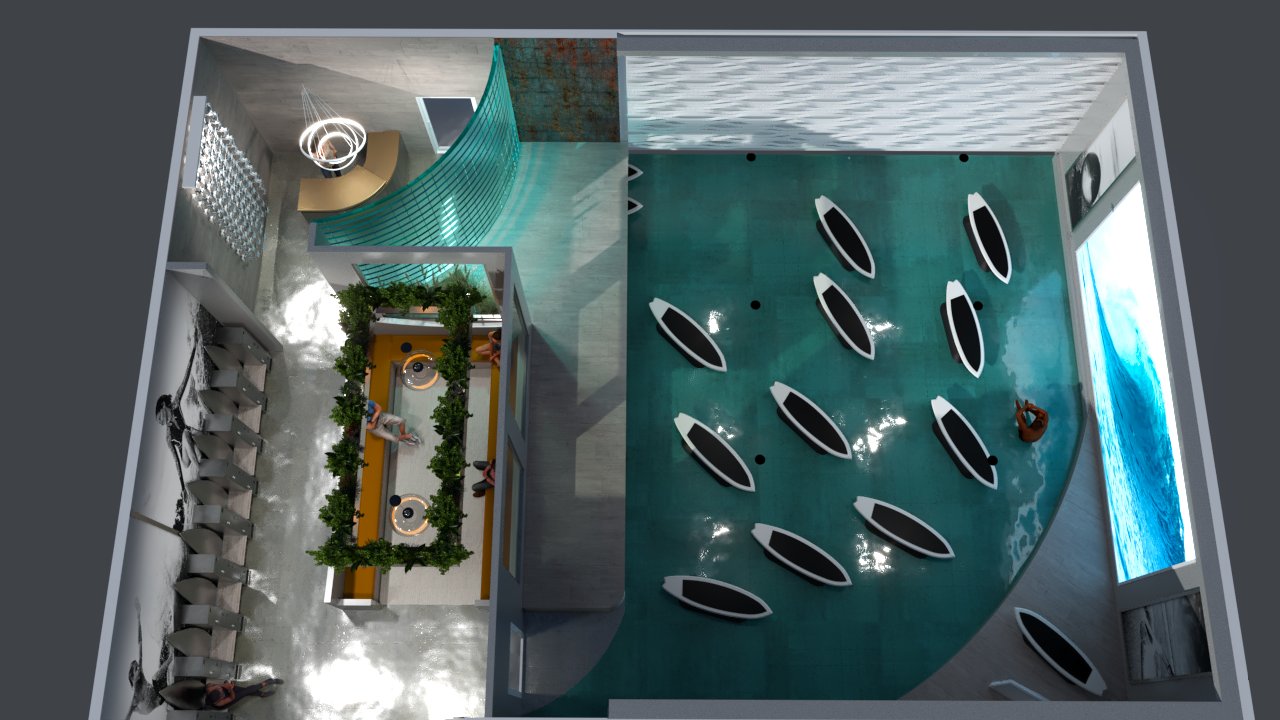 Bridging the two is a sofa pit to relax, wait, and watch. A durable sisal rug looks a bit like sand and withstands the daily traffic. Elsewhere, polished concrete floors are easily cleaned with soap and water.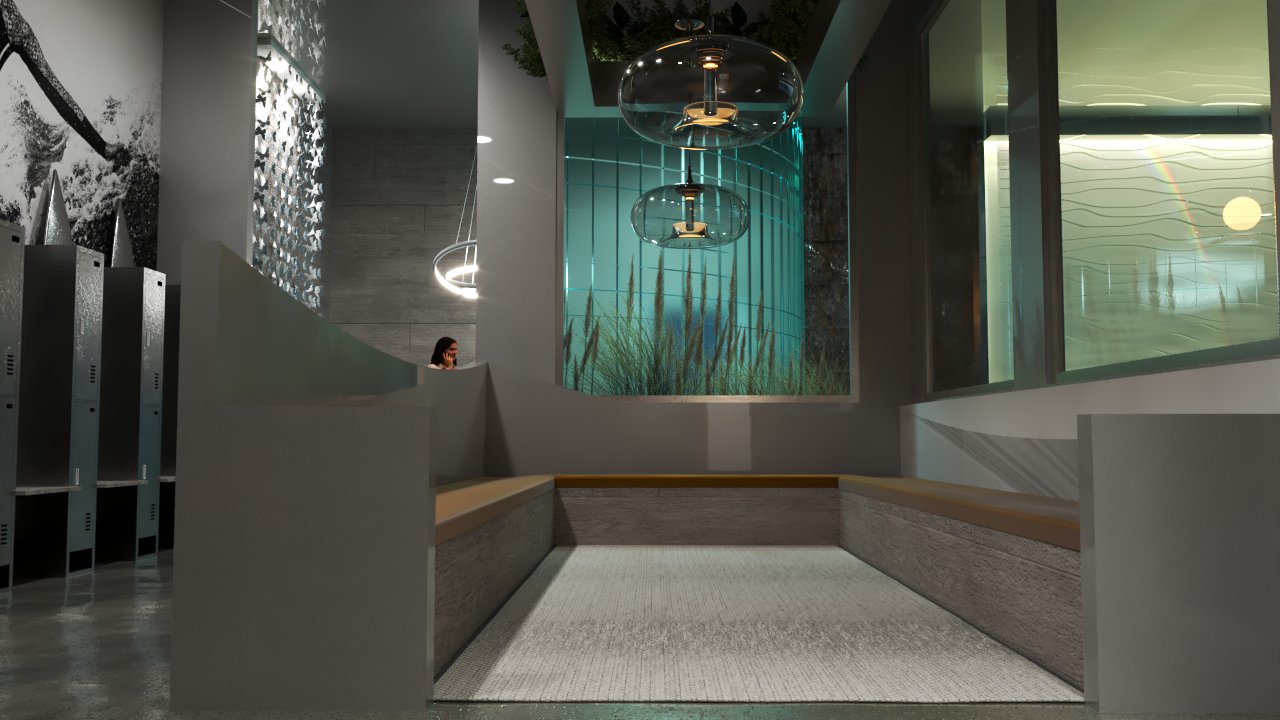 Keep things Fresh
Fitness studios can get... stale. And there are no windows to throw open. A canopy of oxygenating plants over the sofa zone helps. They are easily lowered with a simple pulley system for watering.

But beyond that... Scenting.
Scent is the forgotten sense in most curated environments. When used effectively, it presents clients with smells that remind them of fond memories. These sub-conscious thoughts encourage us to partake in activities because they are connected to memory.
Cold air diffusion via HVAC is a straight-forward, simple solution to introduce a hint of salty sea air, which is decidedly transportive. And the opposite of stale.
Surround them with Sound
Music is a must have for class. But too often, studios go radio silent between sessions and the mood drops. An immersive soundscape—for example, music mixed with the sound of waves and gulls played between classes—keeps the vibe going. Imagine being at the beach (or anywhere really) where ambient sound suddenly 'stopped'. So would the conversation. Sound creates the perception of private space. This is why they created elevator music. (Rest assured WAVE won't play elevator music.)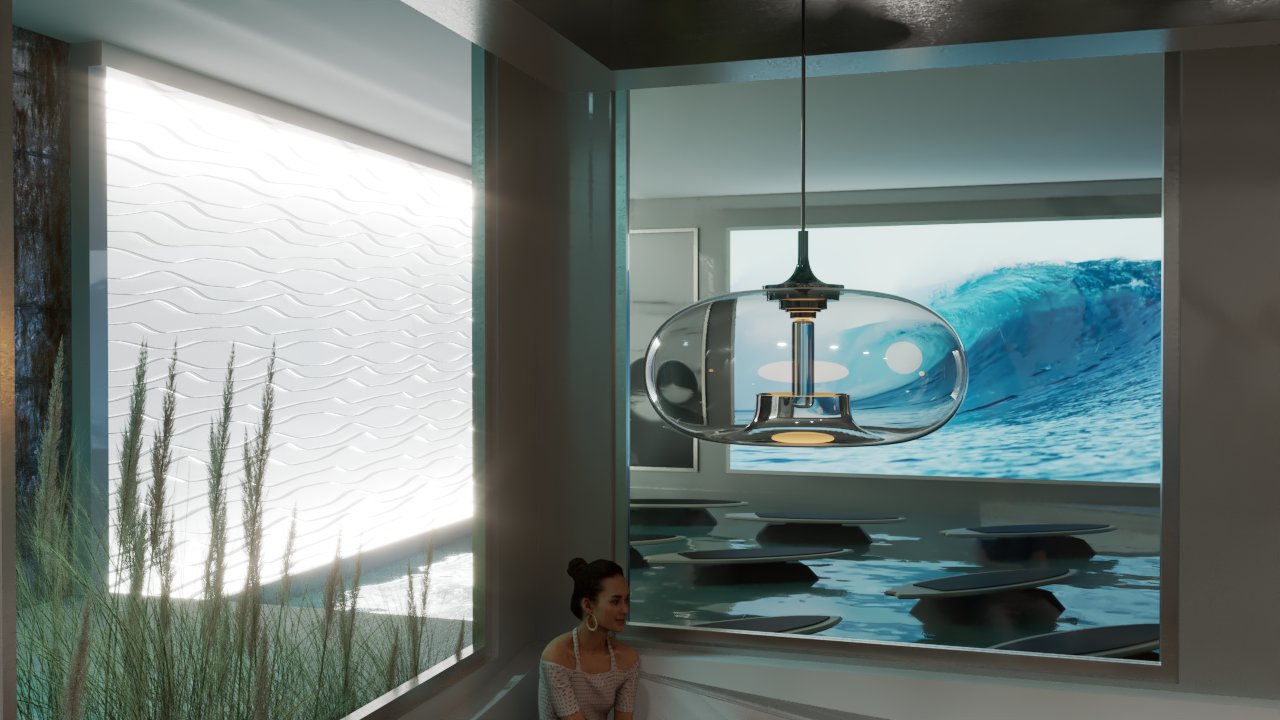 Creative Functionality
There is always an opportunity to add extra functionality. And that functionality can always be made beautiful.
The studio is designed to be used for other class modalities and to be rented for outside events.
The surfboards are large, yet quickly and easily stored under a platform built into the studio space. It's a weathered grey wood, reminiscent of paths found in the dunes. This raised floor adds another space for a second instructor and makes a great stage for speaking engagements.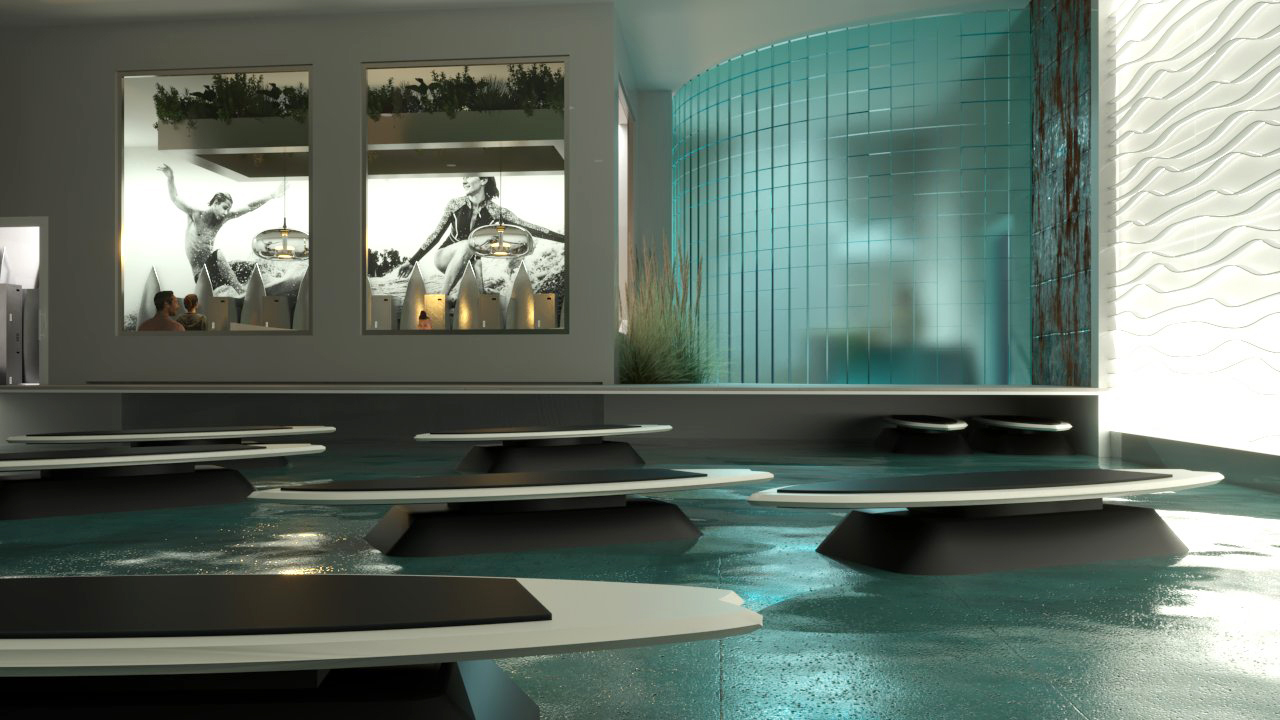 The locker design solves a small studio storage + flow problem that's neither relaxing nor graceful. A class holds 12 surfers at a time, so there are 24 lockers. If assigned by row, for instance bottom lockers for those in class and top lockers for those coming in for class, clients will never have to reach over or under others to get to their belongings. And a single seat between each locker stack means everyone will always have a spot to sit and remove shoes.
Audio/visual equipment needs regular access but creates clutter. It's designed to be kept in a double-sided cabinet housed in the office, yet accessible directly from the studio.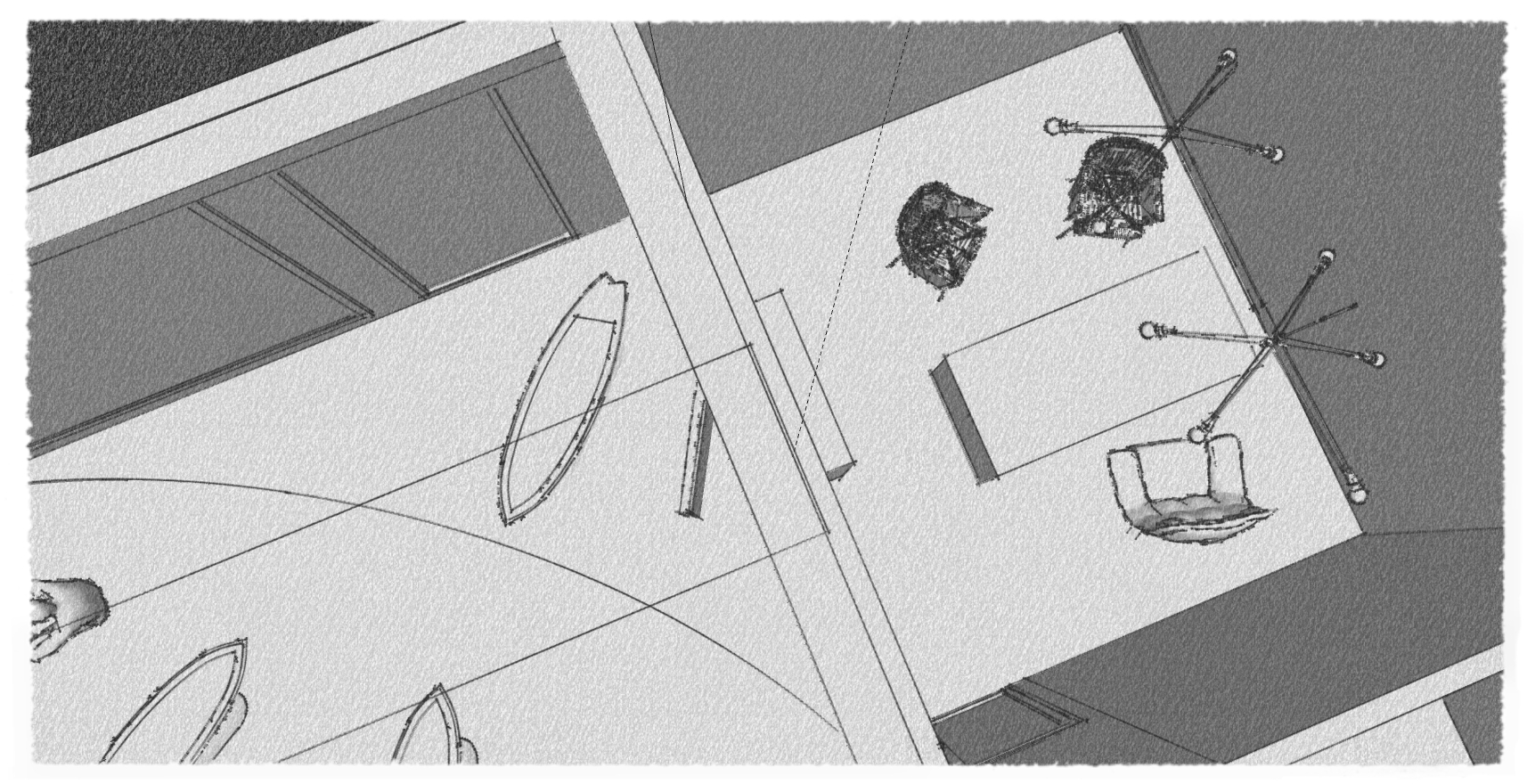 Since this is a compact space, a separating entry hall keeps bathroom comings and goings private.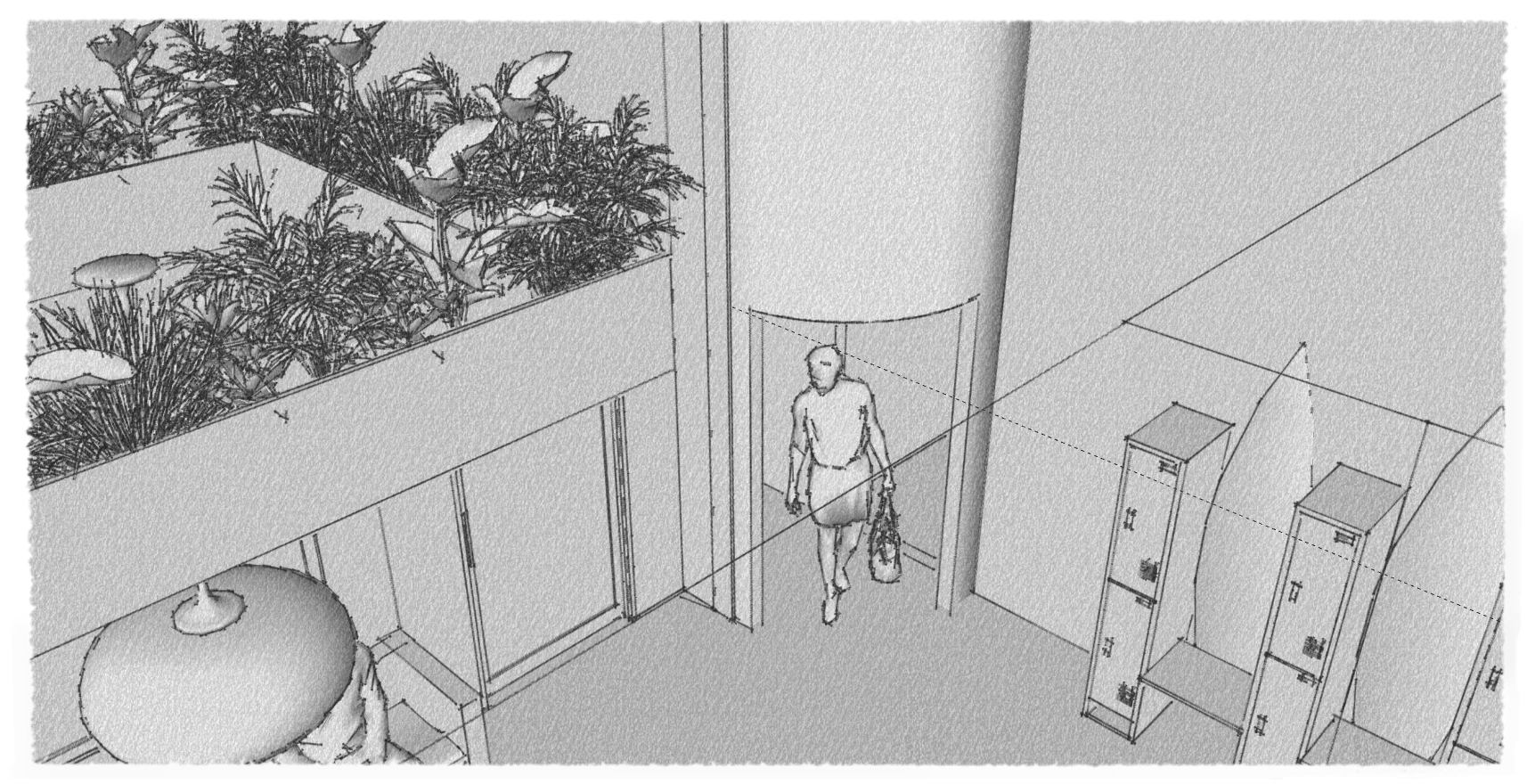 The wave wall is a naturally acoustic material and meant for soundproofing. As beautiful as it is with the back-lit glow, it is equally functional, dampening the studio sound to the outside and/or adjoining spaces.
Because the adjoining video wall is a fixed installation it can be used for outside events. This adds tremendous value to the space for those looking for a unique and inspired venue.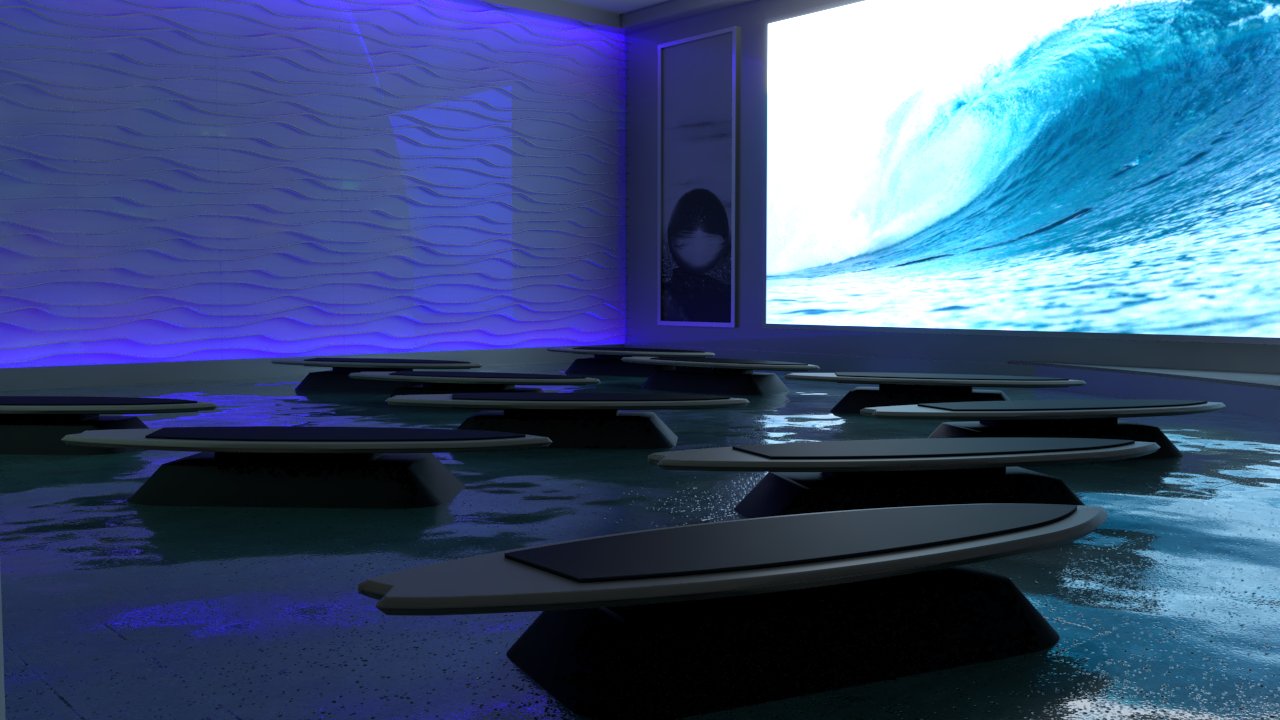 Mood : : Illuminated.